SCC NEWS THIS WEEK:
Sponsored by the Basic Skills Initiative, Staff Resource Center, and Student Equity, Dr. Noma LeMoine, returns to Sacramento City College, Friday, April 17th, Student Center, 9-4 p.m. (Lunch is 12-1 on your own for networking!) 
In step with our Student Equity and Student Success and Support program plans, this seminar is designed to guide and mentor educators who see a paradigm shift in learning and wish to build new schemas for more effectively educating students across the SCC campus.  Dr. LeMoine will highlight culturally and linguistically responsive instructional strategies that build on the language, learning styles, and experiences of Standard English Learners (SELs). These skills sets may also serve as powerful pedagogy for scaffolding access to rigorous, standards-based curricula.
Participants will become knowledgeable about issues of language variation, while addressing our disproportionate populations – and explore how culturally and linguistically responsive instructional methodologies can diminish disparities among these students and build educational outcomes with all students.
Dr. Noma LeMoine is a nationally recognized expert on issues of language variation and learning in students for whom Standard English is not native. She has written and spoken extensively on the topic and is a highly sought-after consultant to colleges, universities, and school districts nationwide.
---
FALL 2015 PROFESSIONAL DEVELOPMENT, FLEX WEEK, & SEMESTER DETAILS
Dear Colleagues:
Please remember to save, complete, and send via e-mail, your Fall 2015 Professional Development and Flex "Call for Proposals".
For the next two years 2015-17, the SRC's new theme is:
"CONNECTING WITH SUCCESS"
This theme will undoubtedly create many opportunities to reach across constituencies in an effort to connect success with teaching and learning, and assist student's with the completion of their college goals. Once you click on the link below, you will see the list of categories, be the change you want to see! Whether it be through the vision of carrying out work from the new Student Equity Academy, integrating learning across divisions, and/or individualizing curriculum and instruction, colleagues across the institution have an opportunity to pay it forward in how we train and learn from one another.
Fall 2015 Professional Development, Flex Week, & Semester Proposal
We look forward to receiving your proposal by Friday, April 17, 2015. If you have any questions, please contact the SRC office at 916-558-2176, or 2165.
Elaine Ader, Dean, IT and Staff Development
Norman Lorenz, Staff Resource Center Coordinator
Tyler Wyckoff, Staff Resource Center Assistant
Working Together, Pursuing Excellence and Inspiring Achievement!
---
PROFESSIONAL DEVELOPMENT:
The week of April 13
---
The week of April 20
---
The week of April 27
Apr 28
Tue., Apr. 28 @ 12:00pm - 1:00pm
---
The week of May 04
May 8
Fri., May. 8 @ 10:00am - 2:30pm
May 8
Fri., May. 8 @ 11:30am - 1:00pm
---
The week of May 11
---
District Professional Development
Office of Human Resources- With this link you will find required training by the district that expires from time to time.
Brown Bag with the Chancellor
Many faculty, staff, management, and students attended the informal conversation. Topics ranged across conversations including sustainability and campus conservation, open educational and online resources, enrollment and dual credit, the SSSP initiative, and AB 540 and undocumented students,   If you would like to email any questions or comments, please send them to: chancellor@losrios.edu. The West Sacramento and Davis Outreach Centers will occur later this month.
---
New to the Professional Development Data Base
Distance Education, Web-Based, and Handouts from Spring 2015 Flex Week Workshops (24/7)
Distance Education Resources and Guidelines
---
Professional Development for Equity & Student Success
Staff Development Program Plan, 2015-16; "Connect with Success"
The Student Equity Plan, 2014-15
The Student Success & Support Plan, 2014-15
Student Support around Teaching and Learning
Concurrent with steps related to employment and communication with the college, while preparing and managing instruction, this checklist can assist with the steps associated with teaching and learning.
The Early Alert Referral System & Counseling Crisis Intervention Services
SARS is a student referral system for educators across campus. The most effective resource referral is within the first three weeks of the semester. The referral provides students needing assistance beyond the scope of the classroom with appropriate resources that can contribute to student engagement, retention, persistence, academic progress, and completion. The results can lead to student success! Please communicate with the student and refer her/him if you feel she/he could benefit from these resources.
Disability Services and Programs for Students
DSPS provides a variety of academic support services to students with disabilities. Our goal is to provide students the opportunity to participate fully in all aspects of college programs and activities through appropriate and reasonable accommodations.
Counseling Crisis Intervention Services
As faculty and staff members, you may encounter various crises that require urgent attention. You are in a prime position to come into contact with a student who would benefit from prompt counseling assistance for personal or mental health problems.
Distressed behaviors are often emotional but not necessarily disruptive. If you have a student experiencing any of the following, informing the student about available assistance through the Counseling Center may be helpful.
Emergency Services
---
Innovative Educators for Student success- A new section of Professional Development with webinars on Student Success and free resources
Are Your Students Prepared?
How To Improve Support Services To Enhance Workforce Preparation
Presented by Dr. Denise Swett
Thursday, May 7 ~ 1:00-2:30pm (Eastern)
Overview:
With continuing workforce initiatives coming down from the White House and the ever present concerns that colleges are not preparing graduates for what employers consider critical skills and knowledge to succeed, colleges need to realign their support services to improve success. While new graduates may believe they are ready to enter the real world of working full-time, most employers are skeptical that they have the skills needed to succeed. This presentation will focus on key factors that student services professionals should consider as they work to determine new ways to support workforce preparation in all levels of students from certificate and AA degrees to bachelors and masters graduates. Continuing to do traditional student support services is simply not going to be enough to ensure career success of our graduates…..
View Full Description
Mediocre Millennials – Report Finds U.S. Millennial Generation Faring Poorly Educationally Compared To Other Nations 
The Surprising Reason College Grads Can't Get A Job
Test Finds College Graduates Lack Skills For White-Collar Jobs
In An Evolving Career Landscape, How Should Colleges Prepare Students?
TutorLingo: On-Demand Tutor Training Videos
Presented by Saundra Yancy McGuire, Allen Bruehl, Roberta Schotka, Steve Picitelli,
Laurie Hazard, Marcia Toms & Stephanie Carter
Overview: 
TutorLingo is a series of on-demand videos and valuable resources focused on supporting the tutor training process. In partnership with CRLA (College Reading & Learning Association), Innovative Educators produced nine engaging videos as a practical online, on-demand tool to support your tutor training needs. Research shows that tutees benefit from working with tutors who are better trained and prepared for sessions. By including these videos in your tutor training program, your tutors will receive training from national experts in the field of learning assistance. Additionally, this video series will be extremely beneficial to your institution if you are pursuing ITTPC certificate through CRLA, as each video below addresses one or more training topics for CRLA ITTPC …..View Full Description 
---
 Accreditation Updates for Sacramento City College
Here are the links to the 2015 Accreditation REVIEW DRAFTS. If you have any questions or feedback, please click the link and e-mail us!
Accreditation open forums are being held this week to discuss the college's Self Evaluation Report and the next steps in the accreditation process. Please join us.
The Open Forums are scheduled as follows:
Monday, April 13— RHN 258—9:00-10:00 am
Monday, April 13—DAVIS DAC 214—4:00-5:00 pm
Tuesday, April 14— RHN 258—2:30-3:30 pm
Tuesday, April 14—WEST SAC WS 114–12:00-1:00 pm
Wednesday, April 15— RHN 258—4:30-5:30 pm
Thursday, April 16— RHN 258—12:00-1:00 pm
See this week's calendar to sign up for dates and times!
---
IN THE NEWS:
New York Times
---
Chronicle for Higher Education
Who's Taking MOOCs? TeachersIn free online courses offered by Harvard University and the Massachusetts Institute of Technology, teachers are increasingly the students, a study has found.
---
Faculty Focus
By: Aimee deNoyelles, EdD; Janet Mannheimer Zydney, PhD; and Kay Kyeong-Ju Seo, PhD in Online EducationOnline discussions are often implemented in college classes to allow students to express their understanding and perceptions about the assigned readings. This can be challenging when the reading is particularly complex, as students are typically reluctant to share their interpretations because they are not confident in their understanding. This can inhibit meaningful interactions with peers within an online discussion.
---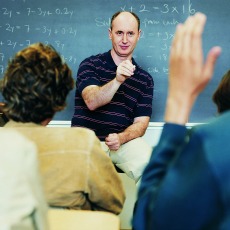 By: Robert C. Bulman, PhD in Faculty DevelopmentWhile college and university faculty are paid to teach, we are often hired because of our scholarship. We are evaluated in the hiring process by the strength of our publications and conference presentations. Therefore, it makes sense that most of us in academia allow scholarship to drive our teaching. Yet the need to focus on scholarship also results in a common complaint that teaching interferes with our time for research. I believe that if we creatively reconsider the relationship between teaching and scholarship we can improve both. I argue that teaching is an undervalued resource that can directly enhance our scholarship—and not just the scholarship of teaching and learning.
---
By: Maryellen Weimer, PhD in Teaching Professor BlogThe design of assignments, that is, the actions required to complete them, shapes the learning that results. We know this, but do we make the most of what we know when we design and select assignments?I'll try to make the point with writing assignments. We have come a long ways since the days when term papers were the gold standard of writing assignments. Paper options now include authentic assignments that approximate professional writing tasks. The Writing-Across-the-Curriculum movement has introduced us to low-stakes writing activities from students jotting down a few ideas before they speak, to free writing that starts the flow of ideas, to journals that encourage personal connections with course materials. Technology adds still more assignment design options. Students can blog and respond to posts; they can write collaboratively on wikis and Google Docs. The options are many, but the features of each writing assignment directly shape the learning that results.
---
Community College Journal
---
College Planning & Management
---
Inside Higher Education
As community colleges and some states consider ways to take care of community college tuition, some focus on the best students, some on the lowest income, and some cast a wide net.
---
Extended By Popular Demand for a Limited Time as a Free Download
Special Journal on Excellence in College Teaching issue: 
Small-Group Learning in Higher Education: Cooperative, Collaborative, Problem-Based, and Team-Based Learning
Guest Editors Neil Davidson, Claire Major, and Larry MichaelsenThis state-of-the-art issue contains 15 evidence-based research articles by international experts in these 4 types of group learning, including Neil Davidson; Claire Major; Larry Michaelsen; Barbara Millis; Spencer Kagan; David Johnson, Roger Johnson, and Karl Smith, and many more.
To download the issue free of charge, go to www.miamioh.edu/ject/ and click "Free Sample Issue—Small-Group Learning."
---
TED TALKS:
Newly Released
Kailash Satyarthi:
 How did a young man born into a high caste in India come to free 83,000 children from slavery? Nobel Peace Prize Laureate Kailash Satyarthi offers a surprising piece of advice to anyone who wants to change the world for the better: Get angry at injustice. In this powerful talk, he shows how a lifetime of peace-making sprang from a lifetime of outrage.
Trending Now 
Shawn Achor:
The happy secret to better work
We believe that we should work to be happy, but could that be backwards? In this fast-moving and entertaining talk, psychologist Shawn Achor argues that actually happiness inspires productivity. (Filmed at TEDxBloomington.)
---
QUOTE OF THE WEEK:
"Contemplative practices place the students at the center of their own learning, shifting the balance of power in the classroom in a meaningful and engaged manner."
                                                           Barbezat, Daniel P.; Bush, Mirabai (2013-10-30)
April 13-19, 2015
"Studies have shown that students who monitor their progress and explain to themselves what they are learning have greater learning gains and were better problem solvers than those who do not (Ambrose et al., 2010)."
Barbezat, Daniel P.; Bush, Mirabai (2013-10-30). Contemplative Practices in Higher Education: Powerful Methods to Transform Teaching and Learning (p. 9). Wiley. Kindle Edition.
On behalf of the Staff Resource Center, offer yourself a great week!
Cordially,
Norman
Staff Resource Center