SCC NEWS THIS WEEK:
This month's focus

:

See Calendar below…
---
PROFESSIONAL DEVELOPMENT:
The week of March 02
The week of March 09
The week of March 16
The week of March 23
The week of March 30
---
Distance Education, Web-Based, and Handouts from Spring 2015 Flex Week Workshops (24/7)
---
Sacramento City College Student Success
Teaching, Learning, and Service Charette Guides:
Institutional & Program Plans including Professional Development for Student Success
---
Student Support around Teaching and Learning
Concurrent with steps related to employment and communication with the college, while preparing and managing instruction, this checklist can assist with the steps associated with teaching and learning.
The Early Alert Referral System & Counseling Crisis Intervention Services
SARS is a student referral system for educators across campus. The most effective resource referral is within the first three weeks of the semester. The referral provides students needing assistance beyond the scope of the classroom with appropriate resources that can contribute to student engagement, retention, persistence, academic progress, and completion. The results can lead to student success! Please communicate with the student and refer her/him if you feel she/he could benefit from these resources.
DSPS provides a variety of academic support services to students with disabilities. Our goal is to provide students the opportunity to participate fully in all aspects of college programs and activities through appropriate and reasonable accommodations.
As faculty and staff members, you may encounter various crises that require urgent attention. You are in a prime position to come into contact with a student who would benefit from prompt counseling assistance for personal or mental health problems.
Distressed behaviors are often emotional but not necessarily disruptive. If you have a student experiencing any of the following, informing the student about available assistance through the Counseling Center may be helpful.
Emergency Services
---
IN THE NEWS:
New York Times
The Treasury's schedule of financing this week includes Monday's auction of new three- and six-month bills and an auction of four-week bills on Tuesday.
At the close of the New York cash market on Friday, the rate on the outstanding three-month bill was 0.02 percent. The rate on the six-month issue was 0.08 percent, and the rate on the four-week issue was 0.03 percent.
The following tax-exempt fixed-income issues are scheduled for pricing this week:
California, $1.9 billion of general obligation bonds. Bank of America.
Citrus Community College District, Calif., $60 million of general obligation bonds. Piper Jaffray.
companies in central New Jersey hiring people to repair copper phone lines. So in January 2013 he trained at a local community college as a heating and air-conditioning specialist. After graduating in December 2013,
---
Chronicle for Higher Education
---
Faculty Focus
By: Robert Talbert, PhD in Effective Teaching Strategies
The flipped learning model of instruction has begun to make the transition from an educational buzzword to a normative practice among many university instructors, and with good reason. Flipped learning provides many benefits for both faculty and students. However, instructors who use flipped learning soon find out that a significant amount of work is sometimes necessary to win students over to this way of conducting class. Even when the benefits of flipped learning are made clear to students, some of them will still resist. And to be fair, many instructors fail to listen to what students are really saying.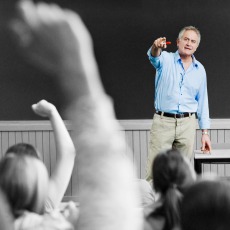 By: Maryellen Weimer, PhD in Teaching and Learning
I was looking at one of my old teaching and learning books, Kenneth Eble's 1988 book The Craft of Teaching. Some parts are now a bit dated, but many are not. It was one of those books that greatly influenced how a lot of us thought about teaching and learning back then.
But I found something in the book that was even older. Eble includes a discussion of and several quotes from an 1879 book (actually the ninth edition) by Josiah Fitch titled The Art of Questioning. Eble writes that it's a small book and was originally aimed at British Sunday school teachers. Here's the quote that caught my attention.
By: Maryellen Weimer, PhD in Instructional Design
Many faculty now have students work in teams to complete course-long projects that are designed to accomplish multiple course objectives and that count for a significant part of the course grade. These groups do not always function well, which concerns faculty. If experiences in groups do not develop good teamwork skills, then maybe it's better not to use groups and have students do assignments individually. Frequently that's what they prefer anyway.
By: Maryellen Weimer, PhD in Teaching Professor Blog
Many of us have encountered cohort groups in our teaching, and by that I mean those groups of students that proceed together through a program, typically a professional one. They take all or most of their courses together, often in lock step. Cohort teaching happens to some degree in most courses. Students in a major at smaller institutions often end up taking many of their courses together. Sometimes there are cohort groups within a class, say a group of commuter students who went to the same high school, or students who live on campus in the same residence hall, or a group of adults taking a work-related course.
By: Rob Kelly in Online Education
When Sheri Litt became dean of arts and sciences at Florida State College's Open Campus, one of her priorities was to address the issue of online learner satisfaction and success. "We started looking at the data," Litt says. "We looked at students' comments on surveys to find out what they were disappointed with in their online courses. And a lot of comments [said, in essence,] 'I felt my instructor didn't care' or 'I felt my instructor would just log in once every six weeks' or 'It would take an entire semester for the instructor to grade an assignment, and [he or she] didn't really give me any feedback so I could develop my skills.'" Based on this qualitative approach, Litt and her colleagues developed a set of best practices that have improved student motivation, satisfaction, and success.
---
Inside Higher Education
CUNY's accelerated degree program for community college students doubles graduation rates and is cost-effective, a study finds. And the model may be exported to three Ohio colleges.
---
TED TALKS:
Newly Released
Jon Gosier:
Hooray for technology! It makes everything better for everyone!! Right? Well, no. When a new technology, like ebooks or health trackers, is only available to some people, it has unintended consequences for all of us. Jon Gosier, a TED Fellow and tech investor, calls out the idea of "trickle-down techonomics," and shares powerful examples of how new tech can make things actually worse if it's not equally distributed. As he says, "the real innovation is in finding ways to include everyone."
Trending Now
Ken Robinson:
Sir Ken Robinson makes an entertaining and profoundly moving case for creating an education system that nurtures (rather than undermines) creativity.
---
QUOTE OF THE WEEK:
 Growth Mindset…
March 2-8, 2015
With his growth mindset, he asked "How can I teach them?" not "Can I teach them?" and "How will they learn best?" not "Can they learn?"
Dweck, Carol (2006-02-28). Mindset: The New Psychology of Success (p. 64). Random House Publishing Group. Kindle Edition.
On behalf of the Staff Resource Center, make your week a productive one!
Cordially,
Norman
Staff Resource Center