"Our global society is highly influenced by the California fashion industry as leaders in design, manufacturing and merchandising.
"Major market centers, apparel manufacturers and some of the largest and most unique retail centers in the world provide California with diversified career opportunities. At this time, California is the number one fashion employer in the nation. California's apparel industry is a thriving economic force in the United States."
-California Fashion Association
What Is Happening in Fashion?
Sacramento Fashion Week [link expired]
---
Great Idea from Tommy Hilfiger,
Adaptive Clothing Collection for Children With Disabilities: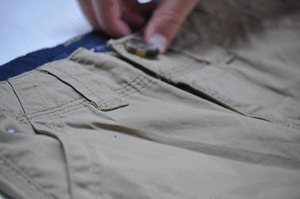 "Fashionable magnetic closure system for people with limited mobility…"
 To promote fashion and design to students. Produce fashions shows on for the campus population.
You will need to log-in to Facebook to access City Fashion.
The Slackers Club
(slack lining club)
Educate people in the art of slack lining and interact with student body on campus balance and mainly have fun.
Fashion Internships, Job Opportunities and Experience
Identify and respond to educational needs of the community/industry.
Provide educational opportunities in the field of fashion for career employment, advanced study, professional development and lifelong learning.
Develop programs aligned with industry-recognized standards to meet the emerging trends, needs and technological advances of the fashion industry.
Provide education in fashion specializations leading to certificates and degrees.
Furnish opportunities for career specialization in Fashion: Design, and Production.
Create an environment that promotes critical thinking, creativity, teamwork, soft skills, multicultural and global awareness and understanding of social, organizational and technological systems.
Provide educational opportunities and program delivery systems to students requiring nontraditional scheduling.
Strengthen partnerships between Fashion programs, secondary/post secondary education segments, the business community, other academic disciplines, professional associations and policy makers.
Recruit and nurture a faculty with strong academic, industry and technical skills and abilities.
Strengthen alumni and industry contacts for program support.
Integrate information technology competencies into the fashion curriculum for utilization of resources to interface with a global economy.